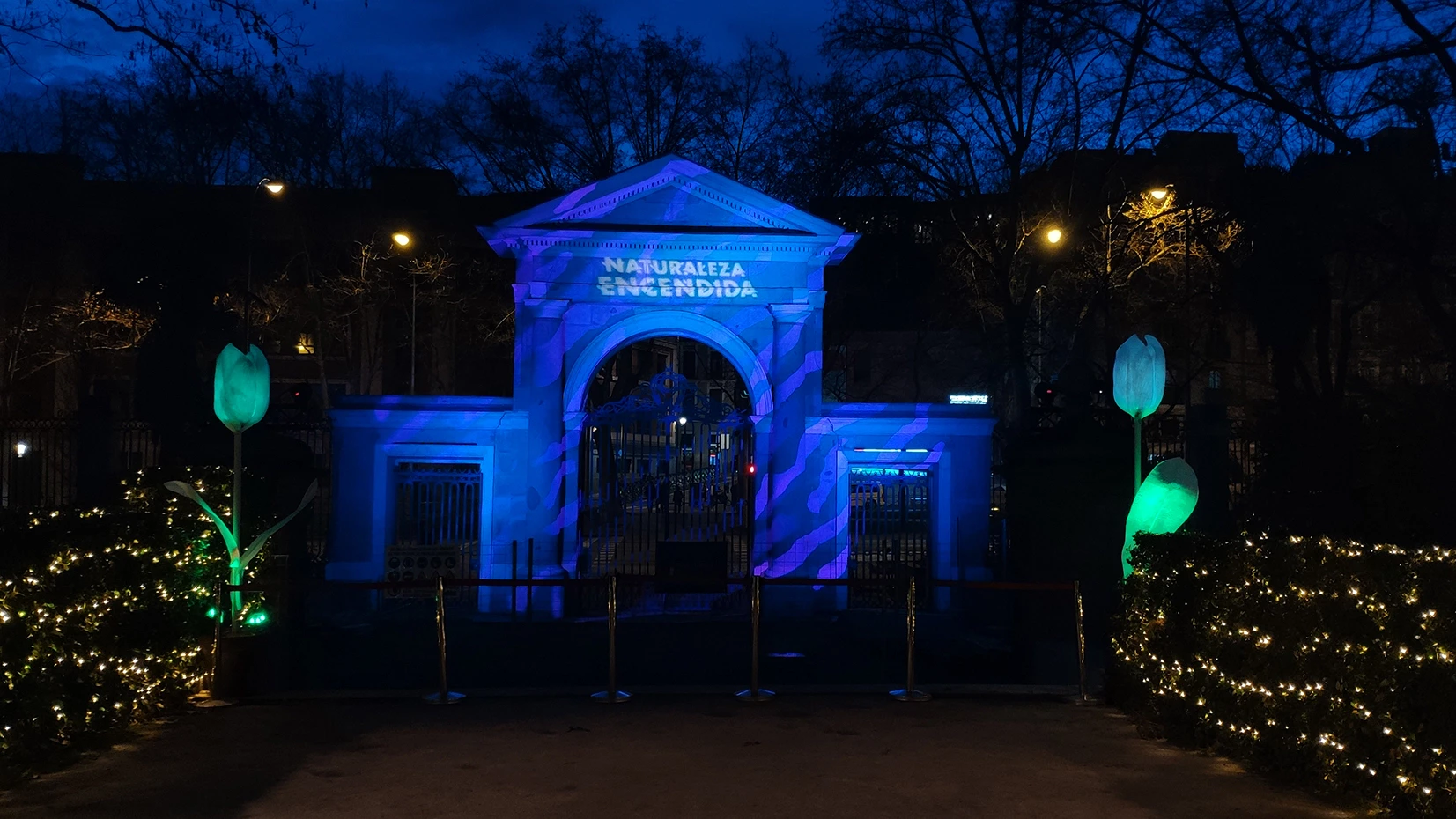 More than just a fun show, it is a magical sensory journey, a night walk through the Royal Botanical Garden of Madrid, where you will be the real protagonist and that will help you immerse yourself in a fantasy world, away from the bustle of the city, to enjoy such a special time as Christmas.
Madrid is a modern, innovative, cosmopolitan city and like other world cities of its category, bustling… very bustling. The daily commute between our home and our work or study center, the transfers in public transport, the rush, the coffee to go … makes our whole body accelerated and we feel dragged by the speed that surrounds us.
However, you can still find places in the heart of Madrid where you can enjoy nature and calm while acquiring knowledge of a science with centuries of tradition such as botany. We are referring to the Royal Botanical Garden of Madrid, a wonderful oasis located in the emblematic Paseo del Prado since in 1781 King Carlos III set its final location there.
The Royal Botanical Garden, with its 5500 species, is a true emblem of European botany for its richness and magnitude, and both the simple visit, as well as the number of activities organized such as concerts, guided tours, expositions, book presentations…, deserve several entries in this Sparker blog.
The Royal Botanical Garden hosts a multitude of activities
On this occasion we want to focus on an activity within the Royal Botanical Garden itself that, despite its spectacular nature, is still not so well known either by tourists or even by the locals themselves. We refer to the project 'Naturaleza Encendida' as it has been known in the 2020-2021 season and that in previous years adopted the name of 'The Lights of the Botanical Garden'.
What is "Naturaleza encendida"?
"Naturaleza Encendida" (Enlightened Nature) is more than just a playful show, it is a magical sensory journey, a night walk through the Royal Botanical Garden of Madrid in which the viewer is the real protagonist of a journey through luminous sculptures of giant flowers, melodies sung by trees, paths of animated flowers, a passage of wishes, a garden of fireflies, sunflowers that emit light instead of looking for it and a pond with a spectacle of water, lights and sound, which have made up the proposal that Naturaleza Encendida has offered this past Christmas season.
The luminous spectacle of the Royal Botanical Garden takes place every year in winter, enlivening such special dates as Christmas. In this season 2020-2021 it was scheduled from November 17 to January 17, but due to the inclemencies of the storm Filomena, it was extended until February 21 in an extraordinary way.
In this last edition, the "Naturaleza Encendida" project had more than one million LED lights connected by more than 30 kilometers of wiring so that, in a total area of 30,000 square meters, visitors could enjoy a 1.5 kilometer walk. Undoubtedly a perfect place to light up your Sparks and impress your followers.
One million LED lights on a 1.5 kilometer promenade
The limited capacity and the reduced dates mean that, if you do not plan ahead, you may have problems to buy your tickets. Without going any further, last year about 240,000 tickets were sold and this year a limit of 150,000 visitors was established to ensure compliance with anti-COVID protocols.
Although it may seem a long time away for the next season, if you don't want to miss out on a wonderful experience and a great opportunity to light up your Sparker profile, mark your calendar for November to be on the lookout for the first tickets to go on sale.
More info about the Royal Botanic Garden and Naturaleza encendida