The best beaches to go with your pet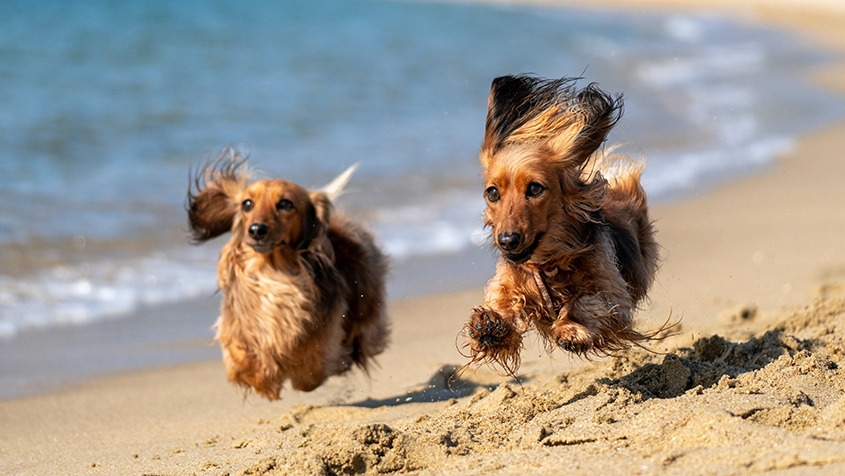 Within the changes of habit that we are experiencing due to the pandemic situation we are going through, the different teleworking options have increased and with it, the number of people who have been encouraged to adopt a dog has also increased.
The number of dog adoptions has risen sharply in 2020
These adoptions, in some cases, are motivated by spending more time at home and in other occasions to try to mitigate in some way the feeling of loneliness and isolation that many people have suffered and continue to suffer from the different confinements. In fact, some animal shelters have refused to adopt animals for months because they were aware that a decision as important as adopting an animal could not be motivated by an impulse or a transitory state of mind.
Another curious fact is that the percentage of abandoned dogs during this last year has dropped considerably, undoubtedly because unfortunately the highest number of abandonments occurs during the summer season due to the impossibility of combining vacations with the presence of our four-legged family members.
The percentage of abandoned dogs has been reduced due to reduced mobility
However, the presence of an animal in our family must be taken with responsibility and summer plans cannot be an excuse to abandon a family member to his fate, having to adapt the tastes and needs of each of us to the vacation destination. Fortunately, it is becoming easier to make our favorite vacation destinations compatible with the presence of our dogs and there are more and more resorts that allow access to our pets (petfriendly).
The Spanish Coastal Law does not say anything specific about the prohibition or not of our dogs accessing the beaches, however, it is the Autonomous Communities and some municipalities that regulate the access of pets to the beaches and we must be very aware that not complying with the rules can lead to heavy fines.
Fines for accessing unauthorized beaches with dogs can reach up to 3000€.
First of all, it is important to know that the basic rules in any beach in Spain require dogs to be identified with their microchip, to carry updated vaccination records and dog documentation, to keep dogs on a leash if not otherwise indicated, to pick up droppings and if the dog is of a potentially dangerous breed, to wear a muzzle.
Here are the beaches that not only allow dogs, but are designed for them.
Bayas Beach (Castrillón, Asturias)
The dog area includes the last meters of its westernmost point, adjacent to the Arenal de los Quebrantos in Soto del Barco. It also offers different services such as fountains, showers for bathers and dogs, and restrooms in the beach parking lots.
Arenal del Jortín (Bezana, Cantabria)
Soto de la Marina is a small town that belongs to the municipality of Santa Cruz de Bezana. In 2016, the town council decided to open an area for those who want to enjoy the beach with their dogs in summer. The Arenal del Jortín, is a small bay next to the beautiful beach of San Juan de la Canal.
O Espiño Beach (San Vicente do Grove, Pontevedra)
O Espiño dog beach is located in Pedras Negras in O Grove, next to the marina and next to Portiño beach. The two sandy beaches (adjacent to each other) are two quiet beaches 75 meters long, with fine white sand and small waves, perfect for a nice day at the beach with your pet.
Agua Amarga Beach (Alicante)
Agua Amarga beach is the "dog friendly" beach in Alicante: it allows dogs to swim in summer and offers the necessary services for you and your pet to enjoy a wonderful moment of relaxation in summer.
Pinedo Beach (Valencia)
Due to the increase of users, the surface of the Pinedo dog beach has increased from 6,000 square meters to 9,000 square meters. This area of the beach is exclusively for dogs and their owners. A series of rules must be complied with, which can be consulted on the town council's website.
Canine Beach of Torre del Mar (Torre del Mar, Málaga)
One of the best beaches in Spain to spend time with your dog because in addition to allowing them access, it has an area of 250 square meters of a playground specifically for pets.
La Rubina (Costa Brava, Girona)
The Rubina Beach has the honor of being the first official beach for dogs in Spain. It is located in Empuriabrava, south of Roses and very close to the Natural Park of Cap de Creus. Here both you and your pet can enjoy its fine sand all year round.
Les Salines Beach (Cubelles, Barcelona)
Semi-urban beach of 450 linear meters of fine sand located next to the tower of the thermal power plant. Where you can enjoy with your dog at any time of the year without time restrictions.
Na Patana (Santa Margalida, Mallorca)
At 300 meters from the beach of Son Bauló in the town of Can Picafort. It is a small beach of golden sand within the protected natural area of Son Real. It is an unfrequented beach where dogs are allowed.
Guacimeta Beach (San Bartolomé, Lanzarote)
This beach has 165 linear meters where you can enjoy your pet without any time limit and throughout the year.