Places visited by Rosalía and Rauw Alejandro in their music video 'Vampiros' in Barcelona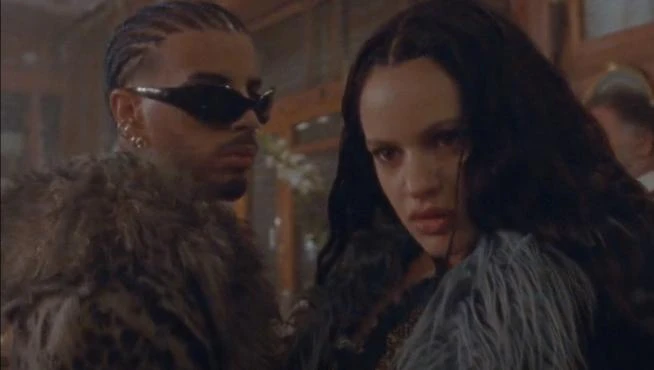 The city of Barcelona is a reference in the lyrics of the song, and the artists have created a route that represents their relationship from the past to the present, with hints about what the future holds. On this journey, there are several standout places that are important to the visual history of the music video.
Rosalía and Rauw Alejandro have joined forces to create a musical masterpiece in the form of an EP. But they haven't just released three songs; they have also created an impressive music video for one of the tracks on the album, "Vampiros". In the video, the duo transforms into vampires wandering the streets of Barcelona at night, sporting fur coats, fangs, and crosses. The video, directed by Stillz and produced by Canada, is a visual masterpiece that is definitely worth watching.
Carrer d'En Roig - El Raval
The "Vampiros" music video begins on Carrer d'En Roig, a historic street in the Raval neighborhood of Barcelona. This area has transformed in recent years, going from a conflictive zone to a trendy spot for both young people and tourists. In the video, Rosalía and Rauw Alejandro walk through the cobbled streets of this neighborhood, creating a mysterious and unsettling atmosphere.
Bar Marsella
First, Rosalía and Rauw Alejandro visit Bar Marsella, an emblematic bar in the city. This place is known for its association with Hemingway, who frequented it regularly. Bar Marsella is famous for its absinthe, a drink that characterizes the establishment and is ordered by artists such as Dalí, Picasso, or Gaudí. In the video, Rosalía and Rauw Alejandro order this drink while enjoying the night at the bar.
Xurreria J. Agiles
After their stop at Bar Marsella, the duo heads to Xurreria J. Argilés, a famous churros stand in Barcelona. In the video, the pair stops at this street-level kiosk to indulge in some delicious churros. This place is recognized by Barcelona locals who have been out at night in the Marina area or near Razmatazz.
Espai Corberó
The couple then heads to their home at Espai Corberó, a spectacular mansion located in the adjacent city of L'Hospitalet de Llobregat. This building was designed by sculptor Xavier Corberó, and Woody Allen chose it as the painter's studio in his film "Vicky Cristina Barcelona." Although the project was unfinished when the sculptor died at 81, this unique space features 1,995 square meters of built area, full of reinforced concrete arches. In the video, Rosalía and Rauw Alejandro enjoy their time in this spooky and labyrinthine mansion.
If you enjoyed this music video and are left wanting to explore more unique places in your city, don't hesitate to download Sparker. With it, you can discover and share interesting and unknown places so that others can enjoy them too