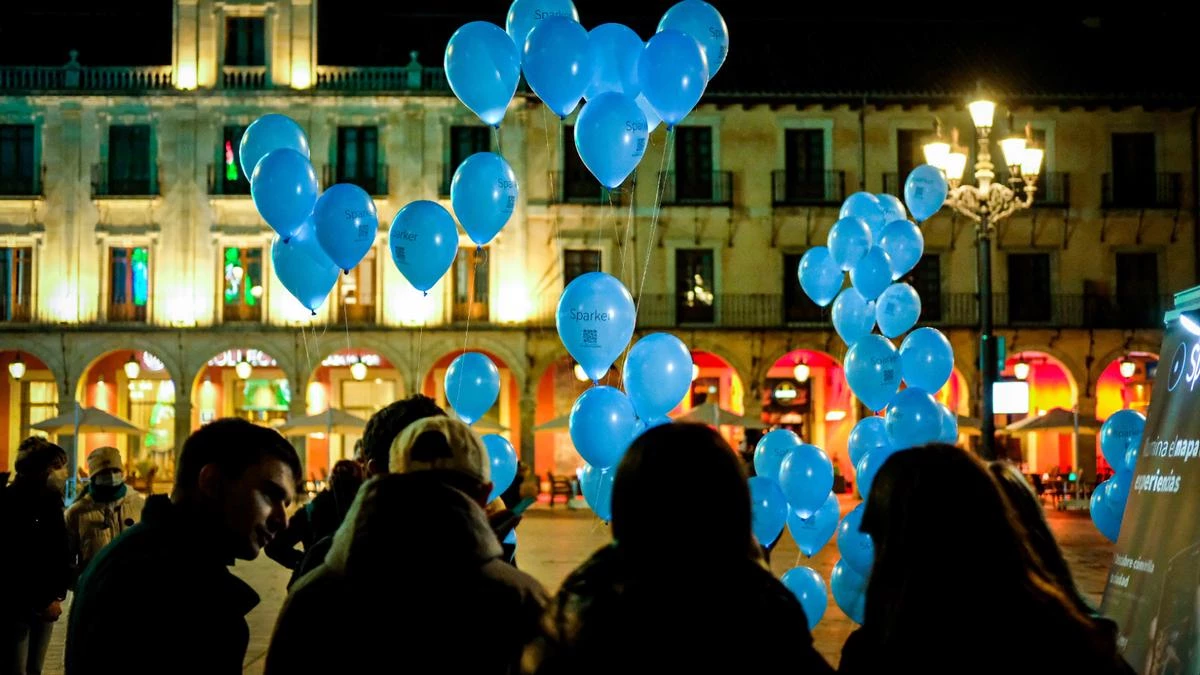 We can say that 2021 was the year of preparation for the launch of Sparker, it seems that this 2022 is becoming the year to start consolidating and discover that we were not wrong.
What have we achieved?
Official launch in León
We ended 2021 with a presentation in the Plaza Mayor of León, our land of origin, because we believed it was the symbolic place to mark the beginning of the project. We managed to attract a good number of users with the collaboration of two of the main local hotel groups, the raffle of a batch of craft beers and the repercussion of appearing in many provincial, regional and national media (You can see more in our section Press Kit).
Aceleradora Villaverde Madrid
From January to April we were in the training plan of the Madrid City Council, through MadridEmprende, specifically the Villaverde Accelerator, where thanks to the training and mentoring of different experts we learned and refined different parts of the product, marketing and financing.
Concluded with a demoday, where Sparker was chosen as the winning project, before an expert jury in startups composed of Ismael Gómez García, director and strategy consultant at COREbusines, Isabel Kofoed, regional director for Spain and Portugal at Demium, Diego Docavo, co-founder of Spanish Startups and Alberto Moratiel, director of institutional relations at ENISA.
Collaboration La8León Solidarity convoy Ukraine
We support the television channel La8León to cover the route of the solidarity convoy with humanitarian aid from León to Ukraine. In total there were 4 days of coverage, intense and full of emotions, in which the television channel was able to bring its viewers closer to each of the key moments of the journey, contextualizing them and placing them on the map of its own profile on Sparker.
Pitch winners in CYL-HUB León
At the beginning of May we attended the presentation in León of CYL-HUB, an international HUB for innovation and technological entrepreneurship in the territory of Castilla y León, financed by Next Generation EU funds and the Junta de Castilla y León.
We were invited to present Sparker to the entrepreneurial community, administration, media and investors, including René de Jong, José María Baños, Juanma Romero, Esther Molina, Emilio Corchado, Alberto Moratiel, Victoria Valbuena and Enrique de Miguel.
We took advantage of our presence in CYL-HUB León to participate in a pitch contest in which, in 5 minutes, several innovative projects had the opportunity to explain what problems we detected and what solutions we proposed.
Sparker was the winner of the pitch thanks to which it facilitated several individual meetings with investors and opens the door to our participation in 'Startup OLÉ 2022' and in an international event in the last quarter of 2022.
Presence in media
During these first months of the year, we have intensified our presence in media, among which we can highlight, among others, the support in provincial media for the launch of Sparker (La Nueva Crónica, Ileon, Leonoticias, Onda Cero, COPE…), the appearance in the innovation supplements of Mundo Castilla y León and Diario de León and in the business supplement of ABC or the interview in the program 'La Brújula de Madrid' of Ondacero.
At the Web Summit
We were able to visit the international Lisbon Web Summit event where we were able to see several inspiring talks and establish some contacts for the future. Find out more in the Web Summit article.
What is facing us this 2022?
We want to keep moving forward, inviting more users to register and use Sparker, so that the content becomes more and more valuable and we can continue to improve the experience we offer.
We have a goal of organic growth and through different campaigns in social media, mass media and events which we will collaborate with. With that help, we want to position ourselves in a situation of national scale to start thinking about an international scale in the next year.
We will be present at some other entrepreneurship and innovation event where we hope to continue connecting with people that will take us further, and we may even consider a first round of funding in the medium term.